Reviews
Here are a few viewer comments about

Big Red Hat

. We'd love to hear what you think about our episodes and presentation. Please send your comments to info@bigredhat.com.
I am the art teacher at a 5/6th intermediate school in NC. We were learning about Alexander Calder when I ran across Olivia's how to video. It was exceptional in quality, information and execution. The students were so amazed by Olivia's organization and skill. They thoroughly enjoyed watching it and although they won't use the exact same materials they now understand much more about the overall intent. Keep it up this is an excellent example of kids helping other kids see the unlimited possibilities they have for life and learning.
Tracy H

., Art Instructor - Franklin, NC

I have watched a number of your videos and you are great. I have taken many classes in my life time from many experts and you teach as well if not better than the best of them. You are relaxed, have a wonderful spirit, vocabulary and are just delightful. You give excellent instructions. I had my granddaughters watch an episode and they made the felted hat. You are terrific and I am sure you will succeed in anything you choose to do in your life. Thank you for being an inspiration.
euvid1

- youtube.com

Thank you very much for the very good film about felting! I am working in a school here in Sweden and we used the instructions when we made a setpiece for our doll/puppet theatre. Everybody was very interested to look at the step by step and everything was very clear too. You are very good in teaching! Here you can see the picture how it looks when finished. The fairytale is called "The golden goat, the golden lamp and the golden coat" Many greetings from Sweden...

Maud Probst-Rönnbom - Sweden

Thank you Olivia for your great video on felting. Amazing what a 45 year old mom can learn from a 10 year old!!! Your directions were right on and I love the way it turned out. Am making these headbands gifts for my nieces.

Danette

Hi, I'm Doha from Jeddah in Saudi Arabia.
I'm 24 years old. I saw your video & I liked a lot. I thank you all because I benefited from. I would like to share the images created by my doll for my little sister, Marya. I hope you like.

Doha - Saudi Arabia

Hello Oli. My name is Niamh and i am 9. I am home educated. I love oliart. We have made the recordc dishes, babka dolls and we have drawn the face. The babka doll in fuschia is called Maria and the one in pink and white check is called Meg (short for Megan). I really love your Oliart, are you making any more episodes?

Niamh - United Kingdom

Dear Olivia! I have never seen a girl leaving such a warm, talented and cute impression as you have given us in all of your vids. You posses the gift of teaching in such a nice and entertaining manner; many shoolteachers could learn so much from you. I do hope you will be making much much more of these great Oliart-vids or even make your own dvd; I would be the first to buy one!
Warm greets from Angharad (in Europe)

HI Oli, Here I am wearing my new hat that I made from a favourite old jumper that was too small!! What do you think of it? I am holding a flower that mum made using your youtube. Thank you for your great ideas!!

Erika

- Australia

Hi Oli, We love your videos. I take care of a special little girl. She made her version of a Babka doll with my help. She was afraid to use a sewing machine until she saw your video. Thanks so much for helping to inspire other children. We wanted you to see how the Babka doll turned out. It was a joy to make.
Thanks so much!

Oli Fans

Wow Olivia, you are fabuuuuu! What talant you have! Here I am, a mixed media artist at the age of forty seven, been creating art since around your age, and I've never made a mobile. Thanks for teaching me!
skybloopnk

- youtube.com

Hi Oli, You are a talented girl and I want to offer my congratulations to you and your grown-up collaborators. I am a Canadian feltmaker. You can see my work at www.andrea-graham.com. Keep up the fabulous work! Andrea
Andrea G.

- Ontario, Canada

This excellent family-friendly Budapest travel video was made by the Big Red Hat kids and it is so cute with three kids showing Budapest, Hungary – very good video, I really really loved it, so I warmly recommend it to all travelers who have not been to Budapest yet. I especially recommend it to mums and dads who are planning to take a trip to Budapest with small kids and wish to see family-friendly Budapest programs in a video summary!!! It's a great walk-through of some of the top attractions and events you may wish to enjoy yourself.
What's more, this travel video is a great educational video at the same time (being an ex-teacher I can't help but appreciate the educational value of making such a video and traveling in a way so that you have a video making project in your mind):
the information about Budapest is interesting, well paced for kids aged 6-14
the video quality is also very good: cuttings, music, the kids in the vid clips, the guest vid clips are superb.
the video is authentic, funny, and you really feel the kids had been exploring the city!
Can you imagine a better way to really make a cultural trip interesting to kids?
topbudapest.org

Jezkoviii zraky !!!su uplne krasni :) Guys, you are amazing!!!!
caribusana

- youtube.com

It's fantastic propagation of our small historic town (Trenčín). The best i've ever seen. Thanks a mil.
ivanba1973

- youtube.com

I think your website and videos are fantastic. I have a science website http://www.scienceguy.org and I linked to the video about batteries. What a great experience for your kids. Everything is so professional. I know how much work it is producing the videos because I have created several myself.
Bill Kuhl

- sciengeguy.org

Olivia is very articulate and talented. Her manners and explanation are inspirational. I was so impressed that I went to episode 2. I cannot wait to share the " Big Red Hat" with my daughter-in-law and our daughter.
Joan M Rickwalt

Hi, this is Meta from Berlin in Germany. Today, we discovered how to make a decorative flower by using the water felting technique. We had a lot of fun. Thank you for that!
Best wishes from Meta (4 years old)

Meta - Berlin, Germany

Olivia, I had so much fun watching you make your doll! I am 30 years old and just learning to sew for the first time. You explained everything perfectly. I can't wait to try! Thank you for sharing your talent! ;)
U2kitteh

- youtube.com

Oli, this video is amazing. You are a very good speaker, your phrasing is very succinct and easy to follow. I have learned so much. And Lora did a fantastic job with the camera work and editing. I am very impressed by the overall quality of this video. Thanks for sharing.
thispooiscold

- youtube.com

I live in Trenčín :) It's beautiful city and this is beautiful video!
MrRockybalboa1 - youtube.com

I am glad you posted this video. I really wanted to make a Calder mobile, but did not know how. Now that I do, I will get to work. I'll send you my results! I'm subscribing!
jackANDjude

- youtube.com

I love the program and you Oli:) You are such a nice and smart girl. Best wishes from Poland:)
panimaga - youtube.com

I love Oliart! She's younger than me but she's like my role model!!!!!!! :D And by the way, my name is Olivia too!!
livxlaughxluv

- youtube.com

Olivia, I loved this video. I love how your hat kind of designed itself. I was thinking: no don't cut it off! It looks wonderful. You're definitely one of my favorite art teachers.
ingridgans

- youtube.com

I really enjoyed seeing your tour of Croatia. You kids are just great!!!
wagstaffe7

- youtube.com

Hi, I am a wet felter and I have done some needle felting as well. I loved watching Olivia making felted flowers and needle felted mittens. Olivia, you explain everything so clearly. I can't wait to share your site with all of my felting friends and everyone I know who has young children. I also loved watching the traveling videos. I can't wait to see what you all do next.
Carol Ingram

- Portland, Connecticut

Oh my word, this was fabulous! What a very talented young lady! I'm going to post this video on the Sew What's New, sewing network.
MonkeeTherapy

- youtube.com

In search for soft-doll making ideas I stumbled on Olivia's Babka doll demonstration at YouTube, which landed me at BigRedHat. I ended up watching all of Oli's videos. She is a natural instructor...so relaxed, clear spoken, with a hint of humor. I also loved the felting (recycling) old sweater projects. Keep up the great work! I look forward to future productions from this very talented family.
Kim K.

- Washington State

I've just finished watching your newest episode of the Traveling Trio (for the second time) -- and have only one critique: It wasn't long enough!!!! I could have watched for hours! Fantastic video -- loved everything about it. Thanks much for sharing it with us all ;)
Lisa Olsen - Manchester, Tennessee

I just watched Oli's mitten and flower felting episodes and I LOVE LEARNING FROM YOU OLI! I would LOVE some more episodes on how to felt! You give great and clear instructions that are perfect for me because, even though I'm an adult, I'm new to felting! Brava Oli! Thanks!!
Kasha - a "new to felting" fan

I just watched the Budapest episode of the Traveling Trio and think what you guys are doing is absolutely wonderful! As someone who was raised on travel I think it is such an important part of the out-of-classroom education.
Kyle Smith

- tripfilms.com

Can you BELIEVE this kid??? OMG, she is GREAT!! Oli - You are amazing! I'm SOOOO impressed! Can you imagine where you'll be in a few years??? I'm proud of you! Keep 'em coming!
ryannlag

- youtube.com

I absolutely LOVE watching these "productions" --- you kids are getting a tremendous education and some valuable experiences --- I only wish I could join you in some of the traveling.
Bill S. - Fort Worth, Texas

Oli is a wonderful teacher......thanks a lot Oli!
With Love.....Hank......71 years young.
wagstaffe7

- youtube.com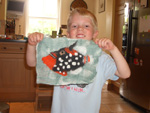 I thought I would take a minute to write and let you know that my 5-year-old son and I love your website. Oli, Dougal loved watching you make felt and a hat. Infact we had to immediately go and find an old jumper to felt despite it being nearly bed time! Dougal also loved watching the twins and today was informing his friends on the functioning of a toilet. (I think I learned something there too!).

We think you are fantastic, and it's so refreshing finding something educational and fun, with children presenting.

A very big thank you all the way from Scotland.

p.s. we have also pinched one of Dougal's dads old records to make a fruit bowl, but he doesn't know about that yet, I hope it wasn't an old favourite!
Ailsa McM.

- Scotland

Oli, I think you rock. The production was great, you were not only clear but very fun to watch and create with. You have a career here I think. The production was very WELL done and you are so comfortable in front of the camera.
sjb111ca

- youtube.com

I have never seen a better tute on youtube. Seriously, you have presence, direction and crafting skills that I haven't seen from even adult crafters. Not to mention the project is fairly labor intensive. Thank you so much for this video, Keep up the good work and good things will come. Brava Olivia!!!!
jadeowl33

- youtube.com

I adore your site. I was so taken with Olivia, that I watched each and every activity. You've certainly done a great job at finding and nurturing your daughter's talents. She is a natural at what she does.
Lisa Olsen

- Manchester, Tennessee

Oli, thanks for such a great video! I was so impressed and inspired by your presentation that I wrote to Martha Stewart to ask her to have you on her TV show.
kespmil

- youtube.com

Oli!!!! Another great job! i love to watch your videos. You are super creative!!
emilyfair

- youtube.com

Wow, what a lovely video. You have inspired me to try to make one of theses wonderful dolls.
lettherebeart

- youtube.com

This kid is so nice and she really knows how to teach too. Very good.
wildaboutfelting

- youtube.com

What a great video (Batteries). I will be using it as part of my science lesson.
mj2634 - youtube.com

Wow this is so impressive you have WAYYYY more skills than me and I'm 16! I can't even imagine all the cool things you'll be able to do by the time you're my age :)
ZZea123 - youtube.com

Olivia, you are such a smart girl! I really enjoyed your video. You should have your own TV show!
TheMick26

- youtube.com

I just watched Quicksand and How to Make a Baba Doll, and let me tell ya... this thing looks great! The kids are engaging, the site is slick, and I'm sure a million kids like my son will be totally into it.
Adam M. - Austin, Texas

Olivia, you are absolutely adorable, creative and easy to listen to. You have inspired me today. Thank you. I will send you a picture when I make my doll.
femininepower - youtube.com

The site is very cool, and the kids seem so natural explaining stuff. They come across as interested kids who like what they're doing. Very refreshing!
Chris G. - Portland, Oregon

This is such good material for children to watch. I hope you will continue producing this kind of entertainment for all ages.
Kay R. - Dallas, Texas

Fantastic...wildly creative!
Neil R. - Plano Texas

Olivia! This video is great! You rock at felting!
Emily F. - youtube.com

Adorable. Great video. We are inspired to go make mittens!!
Angela F. - youtube.com

I cannot wait to show my daughter this video. I needle felt, but I think she will enjoy getting the low down from a younger girl. Thank you!
AFallenArrown - youtube.com

LOVE LOVE LOVE your website and ideas! We don't have kids yet, but when we do, we are with you all the way! Great content and ideas!
Meg S. - New Hampshire

I discovered your web site yesterday and found it very interesting. I like the idea of the Traveling Trio...and enjoyed the videos with Olivia (Babka Doll).
Erich V. - Slovak Republic

Awesome kids' website. My kids were hooked! I'm going to spread the word to some friends.
Ellie M. - San Antonio, Texas

Very clever Olivia! You make it look so easy. I love mobiles and Calder too.
Jamie B. - Austin, Texas

Love the web site! Brilliant!
Elaine R. - Dallas, Texas